WeeAshley
Dwarf Female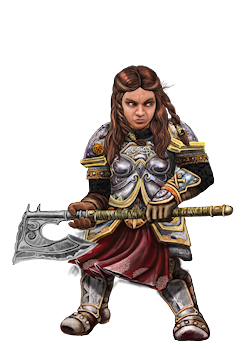 Mother of the Stone, Defender of the Forefathers, The Coldstone Queen, Bitch on the Old Mountain... or simply 'Mum'... Her long-standing and articulate defense of Dwarven tradition has made WeeAshley a household name among the Dwarves of Elgea. Revered by the old and tolerated by the young, she has spent most of her life defending the traditional Dwarven ways. Slow to anger and slower still to forget a wrong, her centuries-long list of allys and advesaries reads like a who-is-who of Dwarven personalities.
With a list of over 379 published works, many of which form the cirriculum for the Dwarven political caste, one would think of her as a stuffy academic. Yet most non-dwarves know her for her relentless, vicious, almost-suicidal military tactics spearheaded by her personally chosen elite dwarven units.
Not everyone loves her, but only the foolish disrespect her and what she has accomplished.
"Respect and zealously follow the people who have worked harder, invested more, and lost much to gain for us all. Until you understand what it costs them to allow for your opinion you haven't earned the right to have one." -- WeeAshley, A Treatise to the Beardling, Published 1983
"Don't be so arrogant as to stand on the foundation your forefathers laid and critisize the way in which they laid them. The zeal of Dwarven youth is not useful until it is refined in the fires of wisdom and experience." -- WeeAshley, The Architecture of Change within Dwarfkind, Published 1943
"You are the product of our society. Your being relies on our laws, traditions, and world views. No Dwarf sits in a cave on his own unaffected and unaffecting those around him. No Dwarf is an individual." -- WeeAshley, A Response to 'New Think', Published 1989
"Like an engraved rockface exposed to weather memories of you and every Dwarf will erode away. So don't live for personal glory; rather live to glorify all Dwarves. Your finest stonework will erode, but the stone will remain." --WeeAshey, The True Dwarven Legacy, Published 2001
Beidh muid a bheith tábhachtach, suimiúil, ach toisc go dtarlaíonn am go chéile cúinsí inar féidir le toil agus pian fháil dó roinnt mhór. A ghlacadh sampla fánach, cé acu de dúinn ghabhfaidh ar láimh riamh cleachtadh coirp laborious, ach amháin a fháil ar roinnt buntáiste as é. Tá muid faoi láthair i thagann an traein locht a fháil leis a tháirgeann bhfuil aon sásamh dá dheasca sin a bheith hiarratais ar líne. Is iad na cásanna seo san áireamh an córas foirfe, tá siad an locht quae ceardlann a fhágáil Bogann tú a mholadh.